#loveyourcolour
Posted by MoMineral UK on
  Vintage Hair & Make-Up Tutorial | MoMinerals Makeup Review by CULRtureUK. "In 2015, we began an initiative called Black to Business, which is aimed at supporting and highlighting black owned businesses in the UK. Each month we select 2 brands and one of our Black to Business Champions for February 2016 is Mominerals. They have 16 shades of foundations made from natural ingredients (suitable for sensitive, oily skins and all skins ) that perfectly match a wide range of skin tones/colours. Here is what Tri has used... Face: Kukungola (meaning beauty- Malawi) Mineral Foundation Eyebrows: 'Grey' Mineral eyebrow powder...
Posted by MoMineral UK on
We can not over-emphasise the importance of taking care of your skin. The skin is the body's largest organ and the first line of defense against diseases and infections. Any appearance of dark spots from scars, blemishes, sunburn, age spots or any skin discolouration issues will trigger you to take steps towards preventing any form of further damage on the skin as changes in skin pigmentation can be a significant source of emotional distress in individuals with dark skin complexion. Hyperpigmentation, caused by the overproduction of Melanin - a brown pigment in the skin. It could be in the form...
Posted by MoMineral UK on
Is Mineral Makeup Good For You?   Sun protection: There are 2 main types of sunscreen on the market today- Chemical and Physical. Titanium dioxide and zinc oxide -which are major constituents of physical sunscreens- are FDA-approved as sunscreen and skin protectant respectively. Titanium dioxide protects the skin from UVB rays and some spectrums UVA rays, while zinc oxide protects the skin from both UVB rays and UVA rays. The best part of it all is that unlike chemical sunscreens, they don't generate free radicals, which can result in skin damage, irritation and accelerated ageing. As we mentioned earlier, these...
Posted by MoMineral UK on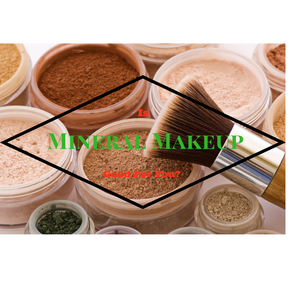 Is Mineral Makeup Good For You? As a good number of us are getting a tad more conscious of various aspects of our health and wellbeing,  the ingredients in the makeup we put on our faces should not be part of the revolution. In addition to the foods we eat, our levels of physical activity, the products we put on our hair and bodies and so on,   Imagine makeup that's not only free from ingredients that can be harmful to your skin but also provides added protection while enhancing your beauty and concealing any little bits of imperfection you may have....
Posted by Omolara Tayo-Sobajo on
Dark skinned women in the UK now have a new mineral makeup brand, MoMineral Makeup UK. Almost every black woman living in the UK has experienced the frustration of trying to find the correct makeup for their skin tone, and when it comes to mineral makeup, it's even more challenging. Although some mineral makeup brands offer options for dark skin tones, not every woman of colour can find their right match from their little selection. MoMineral Makeup is formulated specifically for a variety of dark skin tones. The brand offers over 12 shades of mineral foundation that provides smooth and...
---